Basic information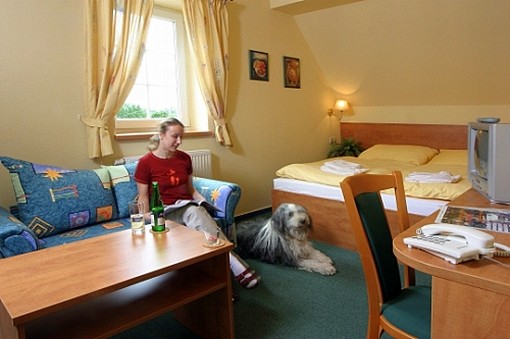 Located in the center of the picturesque town of Hluboká nad Vltavou (only 8 km from České Budějovice) is the lovely 3-star guest-house KA.PR***. Twelve comfortable rooms provided a view of the Castle Hluboká or the golf course.
The KA.PR*** guest house provides 29 beds with 1 single room, 8 double rooms, 2 four-bed rooms (duplex: 2 beds downstairs, 2 beds in garret), and 1 four-bed suite (1 bed plus 1 two-bed room downstairs and 1 two-bed room in garret). Some extra beds can be provided.
All rooms are well-equipped, including shower (bath), TV, telephone, internet and safe.












Accomodation at 2 p.m.
We beg our guests to leave the room till 10.00 a.m. on the day of departure.
Attractive discounts are offered for stays longer than one week, and for groups of 10 or more.
Our suggestion:
To make your stay more enjoyable we can recommend or arrange the following sports activities:
golf,
tennis,
bowling,
horseback riding,
bike rental,
fishing,
hunting,
swimming pool with switchback,
football and baseball field,
ice stadium,
We also recommend other leisure time activities, such as:
touring Hluboká Castle
cinema and theater
gallery and concerts (on the Hluboká Castle courtyard in summer)
ZOO.
Contact:
Pension a restaurace KA•PR (guest-house and restaurant)
Tyršova 966
CZ - 373 41 Hluboká nad Vltavou
Phone: +420 387 965 848
E-mail:
kasparek@restaurace-kapr.cz